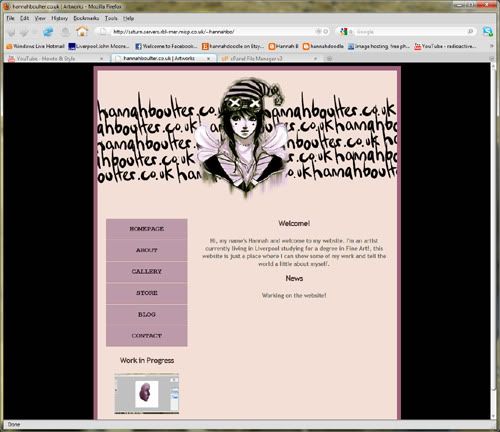 Ah the complicated process that is making a website. It's definitely been a learning curve in that I thought I knew more than I did about making websites before I started.. Today I bought the domain name, hannahboulter.co.uk, I figured it was probably more professional to use my real name rather than a nickname. Upon buying the domain name and hosting package I assumed my website would be functional, the domain name immediately available to be seen, but it's not. At the moment I have a temporary address for which I am trying to edit the site on, I don't actually know if all these links are even going to work after my domain name starts working though so I think I'll just put the index page on at the moment with the few images I need for it to work just so I have something to show one of my tutors during a tutorial tomorrow.
The email says it could take about 24-72 hours to be shown 'due to DNS propagation and caching', not that I know what that means, but I'll assume it means the internet needs to catch up because there's a new website coming to town! It could be working between 24-72 hours from now.. Ahh, the waiting, why didn't I see this coming? I should have bought the domain name days ago, everything has lag.. At least I know this for next time I guess.
Anyway, above is the layout I've come up with since last time, it's changed a lot, I felt the last one was too simple, I wanted it to be simple, but the other one looked well.. Just too plain.
Hopefully the site will be up and running with working links by Monday.